ONE LICK LESS Americana déviante, blues intimiste, math-rock spectral || Paris
+ PERU PERU Casiopop || Lille
Concert
Tout démarre à Paris en 2008 pour One Lick Less, au départ projet solo de Julien Bancilhon, vite rejoint par Basile Ferriot à la batterie en 2010. Fruit d'une longue maturation, le groupe publie "Spirits of Marine Terrace" en mai 2013 via les omniprésents labels Whosbrain Records (Adolina, Joe4, The Glad Husbands, Filiamotsa…) et Les Disques de plomb (Zerö, L'Enfance Rouge, Marvin…). Le disque est accueilli par une pluie de critiques dithyrambiques, la musique du groupe y est souvent décrite comme un brassage d'influences et de genres d'une subtilité flagrante : Gastr Del Sol, Can, Oxbow, Jesus Lizard, Earth, americana, blues, drone, folk… Rien que ça et toujours avec un songwriting qui côtoie le haut du panier. Même quand le duo se permet de reprendre "Alifib" de l'intouchable Robert Wyatt, personne n'y trouve rien à redire et surtout pas nous. C'est ce que l'on appelle un hold-up musical.
Les One Lick Less reviennent d'une tournée en Chine et nous font l'honneur de passer par La Malterie pour un concert qui s'annonce enchanteur, terrien et marin. Oui, tout ça à la fois.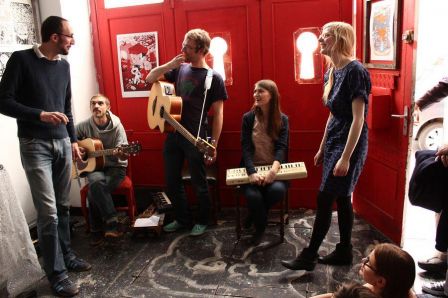 Les locaux de Peru Peru ouvriront les momo-stilités avec leur pop lo-fi alliant mélodies tenaces et clavier entêtant. Après un EP intitulé Jean Barberis en 2011, le groupe annonce la sortie imminente d'un album via le label PIL records (We Are Enfant Terrible, GYM…)

attention :
-l'entrée à la malterie est soumise à une adhésion d'1€/saison qui n'est pas incluse dans les pré-ventes, si vous ne l'avez pas déjà, elle se prendra sur place le jour du concert.
-les tickets en pré-vente sont majorés (1€ de frais de location). Des places sont vendues sur place le soir du concert, mais la malterie ayant une petite jauge, il peut être bon d'acheter son ticket à l'avance, surtout si vous venez de loin ou arrivez tard.